Internship Spotlight: Devan Miller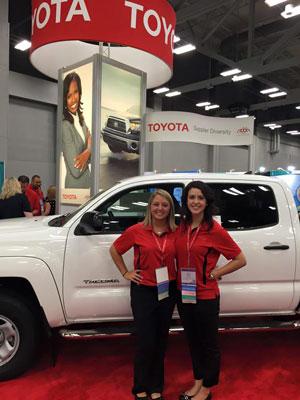 Name: Devan Miller
Major: Hospitality Management and Tourism
Expected Graduation: December 2015
Where are you completing your internship? Toyota Motor Engineering & Manufacturing North America Inc. (Erlanger, KY)
What is your 'typical' day as an intern?
My day at Toyota begins by checking on and responding to emails,reviewing my meeting schedule for the day and updating my list of things I need to accomplish. Typically, I am working on 2 to 3 events at any given time. Activities may include connecting with suppliers or other Toyota team members to provide information about events, contacting vendors, vendor research, reviewing budgets, performing cost analysis activities, going on site visits and presenting ideas to my team members or upper management.
How are you using and applying classroom knowledge in your internship?
My knowledge of Excel, Powerpoint, and Word have proven to be quite helpful throughout my internship. I use all three programs extensively. Also, my experience making presentations in the classroom has been helpful. In my internship, I have to present ideas and report on many events and projects I am working on or have completed. My hospitality knowledge has also proven beneficial in both the event planning aspect as well as in networking situations.
What is one key thing you have learned during your internship?
My biggest takeaway has been time management and the value of taking good notes. I thought I had good time management and note taking skills from being a college student. However, my experience at Toyota has enabled me to improve upon these skills. I have perfected note taking as it is critically important in a corporate environment. I have learned the Toyota processes for note taking as well as managing one's time throughout the day.
If you could share one piece of advice for other students who are preparing to complete an internship, what would it be?
Do not settle for just any intership because it is a requirement. Find an internship that will benefit you in your future career goals as well as an internship that you will enjoy. They are out there, but it takes effort to find them.