Internship Spotlight: Christian Lauchner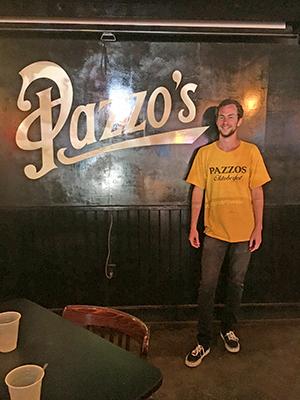 Name: Christian Lauchner
Major: Hospitality Management and Tourism
Expected graduation date: May 2018
Internship location: Pazzo's Pizza Pub
Please describe your typical day as an intern:
Each day I work my way around the restaurant to see what kind of tasks need to be completed. This may involve prepping food, forecasting what is expected that day of business, or setting up the grill and pizza lines so they are fully stocked. When I close the restaurant, I follow specific procedures in order to make sure everything is where it needs to be for the morning shift and I must make sure everything is cleaned and shut down before leaving for the night.
How are you using and applying classroom knowledge in your internship?
Since the restaurant industry can be so unpredictable, I have used my knowledge on how to observe business patterns week-to-week in order to forecast what needs to be done or prepped. When doing so, I base my observations on the prior week(s) or on the patterns of certain days of the week. Additionally, since I have had food prep experience in class, I am very careful when it comes to handling raw meats and produce to make sure I am not cross contaminating and spreading bacteria.
What is one key thing you have learned during your internship?
You can never predict what kind of night you are going to have in terms of business. Sometimes Monday nights are oddly much busier than Friday or Saturday nights. The weather can play a big role in whether or not it will be busy. Sometimes pretty evenings make for a busy afternoon; but at the same time, people may want to just stay home and grill out on their own.
If you could share one piece of advice for other students who are preparing to complete an internship, what would it be?
My advice is to gather all the information you can about the business. It will never hurt to ask your manager how something works or why it is done that way. The answers to these questions provide you with knowledge and experience that you can use in your career.