Internship Spotlight: Chris Loveless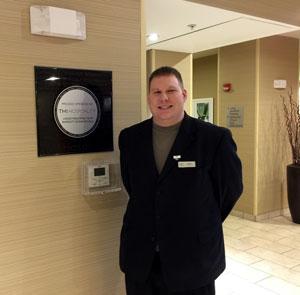 Name: Chris Loveless
Major: Hospitality Management and Tourism
Expected Graduation: December 2015
Where are you completing your internship? TMI Hospitality - Courtyard by Marriott Keeneland/Airport (Lexington, Kentucky)
What is your 'typical' day as an intern?
Depending on which department I am working in, a typical day involves shadowing and receiving hands-on training in all the various departments throughout the hotel. Once trained in a particular department, I then spend about two weeks in each rotation completing daily tasks assigned to me that would be commonly dealt with to gain experience from a management and associate stand-point. For example, one week I am worked in the housekeeping department. First, I spend 3 days training with the housekeeping staff to learn how to properly clean and setup a room to be ready for a new check-in and how to service a stay-over room with fresh linens and toiletries. The following week, I spent my time in housekeeping shadowing the Operations Manager, who is in charge of conducting a final inspection of the room to verify that it has been cleaned to Marriott service standards.
How are you using and applying classroom knowledge in your internship?
The most important thing that I learned as a student is to be flexible, which has served me well in this internship. If you are unable to work on a flexible schedule you will have a hard time working in the fast-paced environment of the hospitality industry. I also have learned to listen to everything that is going on around me. There is always something new that I can learn and take with me into another experience in the future. I will never be above learning something new.
What is one key thing you have learned during your internship?
I have learned that your career is not about making friendships. It is about being respectful and kind to fellow employees and guests, but also demonstrating courage and handing out tasks appropriately. You can never ask too many questions. There is much to learn from everyone within the organization, no matter the position.
If you could share one piece of advice for other students who are preparing to complete an internship, what would it be?
I would say to go in with an open mind. You never know what is to come and something that you may have expected not to like could end up being one of your best rotations/experiences if you are willing to try new things and be flexible. Take advantage of every opportunity presented to you.