Internship Spotlight: Caitlin Perneau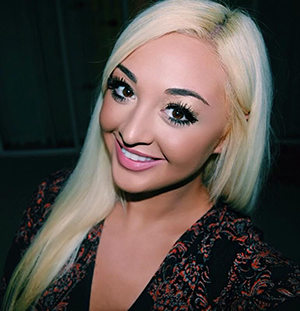 Name: Caitlin Perneau
Majors: Marketing and Merchandising, Apparel, and Textiles
Expected Graduation Date: May, 2017
Internship Location: Prep Obsessed, Palm Beach Gardens, FL
Please describe your typical day as an intern:
My typical day was never usually the same. I worked the storefront at times, helped with shipping and packaging, pulled orders for shipping, did competitive analyses, handled inventory, worked with the owners on working with wholesalers and figuring out what we should buy for our target customers, unpacked boxes, etc. There was no "typical" day. We switched things up every day and sometimes we even held photoshoots with our products and we made each day a lot of fun. The owners made me feel just like part of the Prep Obsessed family.
How are you using and applying classroom knowledge in your internship?
I have used an INSANE amount of what I have learned at UK in this internship. Between competitive analyses, working out the finances, and the visual aspects of the store - there wasn't one day where I didn't apply what I learned in the classroom. The owners really gave me the freedom to apply what I learned in the classroom in their store and they helped me along the way. I even brought my visual merchandising book, which I used quite a few times to switch around displays in the store, as well as my retail math book which helped me keep up with the financial discussions the owners had.
What is one key thing you have learned during your internship?
I learned that you have to be willing to just put yourself out there. I was fortunate enough to work for a small company where I got to see the ins and outs of the entire company. I saw the good days and the bad days and the in-betweens. I was very nervous coming in to the internship only because I wasn't sure what to expect. However, Nina and Corey taught me to be confident with running a small business and the decisions you have to make in order to make it a success. I was the very first intern they ever had, considering they're only 3 years old, and I learned so much with the small business as well as myself in this amount of time. I never even thought about opening up my own boutique, but Nina and Corey and Prep Obsessed made me fall in love with the whole concept and they taught me every little detail about how to be a successful boutique owner.
If you could share one piece of advice for other students who are preparing to complete an internship, what would it be?
I would tell those students to ask questions. Ask a ton, don't be afraid to ask too many. It took me some time to realize this just because I was nervous, but in order to be successful in my own future, especially if I want to have my own boutique someday, I need to find out as much as I can! You won't find out anything in detail if you don't ask questions about it and it also makes you more engaged in your internship and your boss will notice.