Internship Spotlight: Caitlin Pagano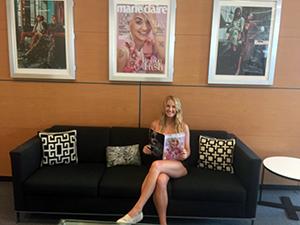 Name: Caitlin Pagano
Major: Merchandising, Apparel and Textiles
Expected Graduation: December, 2015
Where are you completing your internship? Marie Claire in NYC.
What is your 'typical' day as an intern?
As an intern at Marie Claire, every day is different. Four other interns and myself work in a conference room doing a variety of projects for our supervisor. We do everything from researching Project Runway to returning designer clothes to the original offices.
How are you using and applying classroom knowledge in your internship?
I am using a lot of excel work as well as my research skills.
What is one key thing you have learned during your internship?
I have learned a lot about the interworkings of the editorial industry and what goes into the production of a magazine.
If you could share one piece of advice for other students who are preparing to complete an internship, what would it be?
I would say make sure it is the industry you want to pursue a career in and a place where you can network.