Internship Spotlight: Brynn Lehman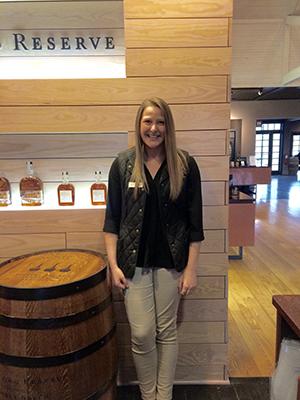 Name: Brynn Lehman
Major: Hospitality Management and Tourism
Expected Graduation: May 2016
Internship Location: Woodford Reserve in Versailles, KY
What is your 'typical day' as an intern?
On a typical day I begin by counting bourbon, counting out the drawers for the gift shop and assisting in opening the shop. Then, I'll either complete sales in the gift shop work on inventory needs. I typically work with my supervisor from 9 a.m. until 1 p.m. and then go to the visitor center to work from 1 p.m. until 5 p.m. In the visitor center I answer phone calls providing directions and information about our tours, cafe, etc. I also work in the tasting room and assist with set up for and break down from tours. At 5 p.m. I recount bourbon to make sure our inventory matches with what has sold.
How are you using and applying classroom knowledge in your internship?
 I use a lot of the hospitality skills that I learned in class as well as methods I originally learned in revenue management and other management courses. I catch myself thinking of new and improved ways we can accomplish tasks in a more effective manner and openly express these new ideas to my bosses.
What is one key thing you have learned during your internship?
I've learned how to truly be hospitable in every situation, no matter how happy or upset a guest is. I've learned how to turn any situation into a positive experience for our guests without expressing my personal opinion or feelings.
If you could share one piece of advice for other students who are preparing to complete an internship, what would it be?
Go into your internship with an open mind and you will learn so much. You may even realize a different path that you are interested in that you would have never gotten the opportunity to do otherwise. Also, be okay with doing the dirty work—it's the only way to make it to the top!