Internship Spotlight: Benjamin Dahlin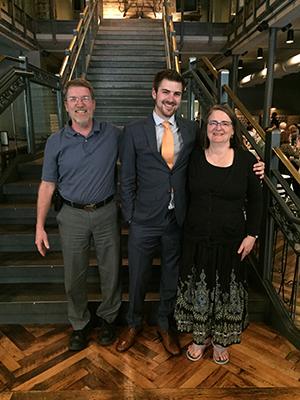 Name: Benjamin Dahlin
Major: Hospitality, Management & Tourism
Expected Graduation Date: August 2017
Internship Location: Tony's Steak & Seafood in Lexington, KY
Please describe your typical day as an intern:
Each morning I was scheduled to clock-in at work well before the restaurant opened to help prepare for the night ahead. During my shifts, I would work with the managers, chefs, and hostesses to make sure the night ran smoothly. When working with the kitchen staff, I got the chance to see and learn what techniques they use to make sure the food preparation process runs as efficiently as possible, while also providing the quality meals the restaurant is known for. When I worked with the hostess, I would help take reservations, as well as run through the available time slots with the general manager to maximize table turns. I learned how to expedite food, as well as work private party events upstairs. Additionally, during dinner service, I would sometimes work behind the scenes at the bar and help servers run their service. These tasks helped me to gain a broader perspective on what it takes to manage a busy restaurant.
How are you using and applying classroom knowledge in your internship?
During my internship I applied my classroom knowledge when talking to the chef and general manager about keeping the restaurant stocked. In my classes I learned the different methods I can use when taking inventory, but it was exciting to see the real world application of these skills on my job site. I also used the teamwork skills I learned turning Lemon Tree to effectively work as a team.
What is one key thing you have learned during your internship?
I learned that preparation is everything in the restaurant industry. If you properly prepare and manage the restaurant, then small issues do not snowball into larger ones and are much easier to handle.
If you could share one piece of advice for other students who are preparing to complete an internship, what would it be?
Take your internship seriously. It is not like attending classes; it is much more labor intensive. In my internship I worked long hours. Something I found essential was making sure I got a good night's rest. This helped me to recharge and be ready to work hard the next day.