Internship Spotlight: Amy Kristyn Higdon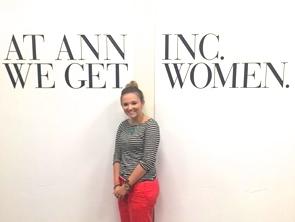 Name: Amy Kristyn Higdon
Major: Merchandising, Apparel, and Textiles
Expected Graduation: May 9, 2015
Where are you completing your internship? Ann Inc. New York, New York
What is your 'typical' day as an intern?
I come to work and sit with the accessories sourcing team. I have been taught to use programs that create style numbers for various styles of jewelry and also how to land the costs of those styles. I am able to attend various cross-functional meetings with the design and merchant teams to discuss the future lines for the various brands. As an intern group we also meet most days to work on our final project to present to the executive team. The internship coordinators have also set up various touch points for us to have the design, marketing, merchandising, sourcing teams speak to us, as well as many of the executives, including our CEO Kay Krill.
How are you using and applying classroom knowledge in your internship?
I am using a lot of what I learned in the classroom to work with my team. Having to complete various group assignments in school I learned to work with others and communicate effectively and to delegate the work load. This has helped me tremendously when it comes to my final project that I am working alongside seven other interns to complete.
What is one key thing you have learned during your internship?
I have learned that clear communication truly is key. Being in sourcing, I work with our overseas vendors on a daily basis. It is so important that my emails are clear for them because of the language barrier. Also, it is critical that they be answered in a timely manner. The product depends on us because we are the team that gets the samples in line and if we do not communicate timely with the vendors, then the product will not get to New York on time.
If you could share one piece of advice for other students who are preparing to complete an internship, what would it be?
I would say really go for the internship that you know you want. I knew I wanted to intern at Ann Inc. because I had worked in the LOFT store for a year and a half as a sales lead. It is scary waiting to hear back from the internship that you want so badly, but just go for it! I never dreamed I would be here, in New York City, interning in the middle of Times Square, but I went for it and here I am!