Internship Spotlight: Allie Johnson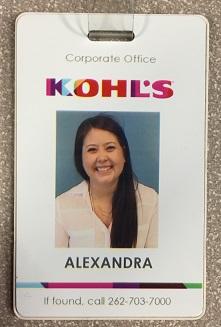 Name: Allie Johnson
Major: Merchandising, Apparel and Textiles
Expected Graduation: December 2015
Where are you completing your internship? Kohl's Corporate Office in Menomonee Falls, WI
What is your 'typical' day as an intern?
The internship program is focused around shadowing a Merchandise Analyst and learning their job because this is the position of an incoming graduate to Kohl's. However, interns do get exposure to each of the other positions within the buying office as well. We also have projects, classes, and activities that we complete each week on our own or in small groups.
How are you using and applying classroom knowledge in your internship?
Many of the classes I've taken within the MAT program have provided a strong base of knowledge of the retail industry as a whole and have enabled me to know how to complete my projects. Classes like Retail Math, Textiles, and Merchandise Strategy Analysis have really given me a head start on the rest of the interns who do not have this background.
What is one key thing you have learned during your internship?
I have learned that the retail industry is constantly changing. You need to be extremely flexible and understand that nothing is going to go exactly as planned.
If you could share one piece of advice for other students who are preparing to complete an internship, what would it be?
Ask questions, take tons of notes, and just soak in as much as possible!