Internship Spotlight: Alexis Watson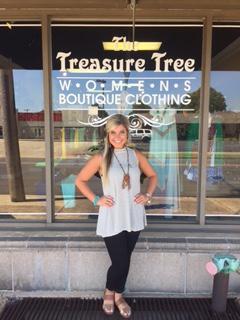 Name: Alexis Watson
Major: Merchandising, Apparel, and Textiles
Expected Graduation Date: December 2016
Internship Location: The Treasure Tree, Paducah, Kentucky
Please describe your typical day as an intern:
I cannot say that I have a "typical day" in my internship at The Treasure Tree clothing boutique. Since I have been fortunate enough to take on a managerial position during my internship period, I am allowed to do a wide variety of tasks. Some of the tasks that I do on a regular basis include opening and closing procedures, customer service, and cleaning. However, on some days I get to serve as a buying assistant and work on floor set changes.
How are you using and applying classroom knowledge in your internship?
I am applying many things that I have learned from my MAT classes to real world scenarios. For example, I am able to talk about the fibers and textiles of garments in an educated manner, allowing me to provide customers with knowledge of the fit of certain fabrics and how to properly care for them.
What is one key thing you have learned during your internship?
One key principle that I have learned from my internship is that customer service is the most vital aspect of operating a small business. Being able to build one on one relationships and meet the customers' wants and needs is enough to turn a first time visitor into a loyal customer.
If you could share one piece of advice for other students who are preparing to complete an internship, what would it be?
My advice to future interns is to not be discouraged if they don't end up interning in a big city like New York or Los Angeles. My internship is located in my small hometown, and because of this, my internship supervisors have invested so much into me as an individual. I truly think that because I chose to do my internship with a small business that I am gaining valuable insight and being exposed to situations that could easily be overlooked in the corporate setting