Internship Spotlight: Abby Hamilton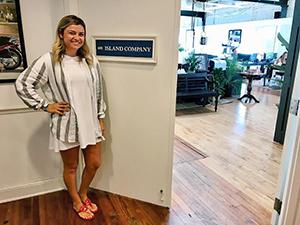 Name: Abby Hamilton
Major: Merchandising, Apparel, and Textiles.
Expected graduation date: May 2018
Internship Location: Island Company Studio Headquarters in West Palm Beach, Florida
Please describe your typical day as an intern:
My typical day as an Island Company intern is fast paced, hands-on, challenging, rewarding, and so much fun. I work specifically in wholesale, but have opportunities to work in other departments as well. Throughout the summer, I have been given responsibility for many ongoing projects. As I was first getting started, I learned how to manage account files, create sales orders, check inventory, and process return authorizations. Moving forward, I was given the responsibility of Island Company's Duty Free store, which is a small retail space that sells our old samples and damaged clothing. I am expected to be there for every appointment, manage inventory, merchandise and operate the Point-of-Sale system. I also spend time taking inventory of our products being sold at nearby hotels and resorts, and even get to assist our wholesale account executive at appointments with potential new accounts.
How are you using and applying classroom knowledge in your internship?
My classes thus far have taught me the basic knowledge that is necessary to enter and be successful in the fashion industry. My retail classes introduced me to many terms and concepts that I now use on a daily basis. The business side of my degree has been very helpful as well. I am able to use what I've learned in my accounting classes to understand the finances associated with our accounts. I also use Microsoft Excel on a daily basis, which I learned how to use in my classes.
What is one key thing you have learned during your internship?
One key thing I've learned is what kind of career I'd love to have one day! Working in wholesale, I've been able to see what it's like working in a corporate office, developing professional relationships, and representing a brand. This experience has taught me more about what my interests are and what possibilities are out there. I'm very open to working in wholesale again after graduation and have fallen in love with Island Company! My future goals have become a lot clearer now that I have had this internship experience.
If you could share one piece of advice for other students who are preparing to complete an internship, what would it be?
My advice to interns is to be as helpful as you can! This a mutually beneficial experience. The more you get involved and offer your help in situations, the more you will learn. My supervisors continued to give me challenging tasks after I proved that I worked carefully, productively, and with a good attitude. The more you prove yourself to be an asset to their team, the more they will trust you to take on bigger and better responsibilities!