Internship Spotlight: Halie Laubach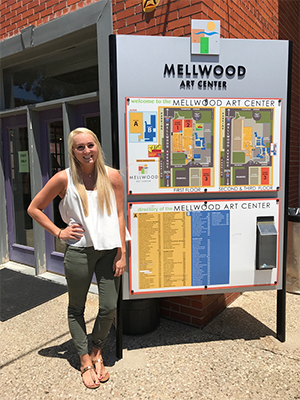 Name: Halie Laubach
Major: Hospitality Management & Tourism
Expected Graduation Date: May 2018
Internship Location: Mellwood Art Center in Louisville, KY
Please describe your typical day as an intern:
My typical day as an intern begins with me checking in with my supervisors to see if they have any new tasks for me. Then, I work on two long term projects -- helping to plan the annual September art fair and working to organize event contracts with a spreadsheet noting event room details. Other than these long term tasks, I help out in other ways around the office. This includes answering phone calls, checking available dates for events and showing event venues. A mixture of these two things keeps me very busy.
How are you using and applying classroom knowledge in your internship?
Recently I was asked to work on a bookings and analytics project. I was asked to create charts and graphs that show how booking trends and numbers compared month by month and year by year. When completing this task, I was able to use my knowledge of how to figure occupancy percentages and used the revenue management strategies that I learned in class.
What is one key thing you have learned during your internship?
One thing that I have learned during my internship is that communication is key within an organization. It became evident to me very early on how imperative it is that everyone in the office be on the same page. Whether it be about an event, a client or even just a daily task, things run much smoother if everyone is in the know.
If you could share one piece of advice for other students who are preparing to complete an internship, what would it be?
A piece of advice I would give is to be open and willing to do anything that is asked of you. You never realize how beneficial it can be to do small, minute jobs until you actually do them. Something could seem silly or small, but in the grand scheme of things, it is very important.